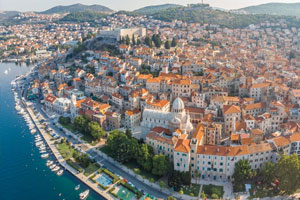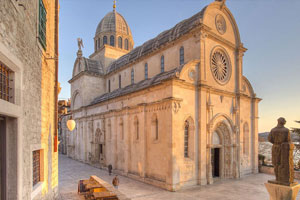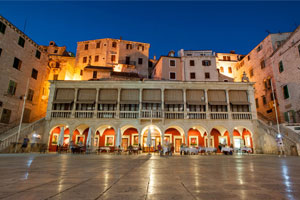 Where the land meets the sea, the vibrant city and surrounding Mediterranean countryside of stunning Šibenik extend a warm and charismatic welcome to all our visitors.
Set on a hill surrounded by four impressive heritage fortresses – and overlooking the glittering azure waters of the Adriatic – the ancient city dates back to 1066, offering a wealth of historic and cultural experiences to all who visit its sun-drenched shores.
Perched on the edge of a picturesque archipelago, with islands dotted across the horizon as far as the eye can see, Šibenik boasts breathtaking panoramic views infused with unparalleled natural beauty.
Šibenik's most recognisable landmark – and a UNESCO World Heritage Site – St James Cathedral is an architectural marvel with its interlocking stones and famous dome. Built over a period of 100-plus years from 1431-1535, the cathedral showcases a unique blend of Gothic roots and Renaissance finesse.
Quite the spot for historic finds, Šibenik also offers a second UNESCO site: the distinctive, Venetian-period St Nicholas fortress. Meanwhile, the oldest monument in the region – St Michael's Fortress – dates to the eleventh century; it now plays host to a lively open-air theatre, featuring performances throughout the summer.